What is to be said about the movie "Titanic"? I have done much reading on the "Titanic" movie, and have come to know the director and actors fairly well. I also know quite a bit about why James Cameron wanted to make a movie about the "Titanic". I have read quite a bit about the special effects, stunt doubles, the 'Titanic' James Cameron constructed, the point of the story, etc...
The only reason I'm interested in the movie is be
cause of how James Cameron practically 'rebuilt' the Titanic. From me he gets a five star rat
ing for that, but it see
m
s that Hollywood can't leave it at that. They have to turn every movie th
at comes down the pike into a love story, it's really a bummer they have to do that. Oth
e
rwise it would have
been
a
good movie.
Someone once said about the movie that "it's as
close as your going to get to walking the real decks of the Titanic".
For me the movie helps put real life imag
es int
o my head, and helps me get an idea of what she really looked like. I'm going to post pictures of
Ja
mes Cameron's "Titanic"!!!
href="http://www.fortunecity.com/lavender/stroheim/163/set10.jpg">
The 'Titanic' that Cameron built was actually 10% smaller than the real thing, if he would have made it built to scale it would not have fit in the tank! But you can get an idea of how big she really was.
href="http://www.solarnavigator.net/history/explorers_history/titanic_sinking.jpg">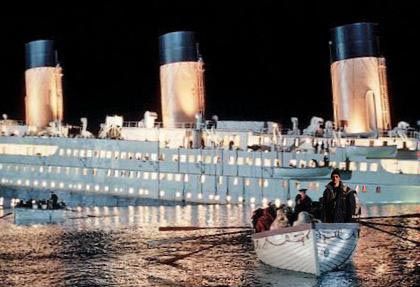 The 'Titanic' has made billions of dollars worldwide. It has won more Oscars, than any other movie, and tied for 11 academy awards with other movies, such as 'Ben Hur'.
The thing is, its just a movie, and you can learn more reading a book then you ever could watching a movie. I hate it when I ask someone if they have an interest in the Titanic, and they say "oh yah I have seen the movie", no you don't like the Titanic you like the movie. I don't tell them that but I should.
Seems how the 'Titanic' made such a hit 10 years ago, I thought I might as well share my thoughts on the matter.
It would take a really long time to go into detail about how the movie was made, and its really not important, so I won't. I have always found it interesting how people make movies and if your interested further there's a multitude of information on the internet about how they made it.